IDEA Ram Universal X-Grip Cell Phone/ Music Player Holder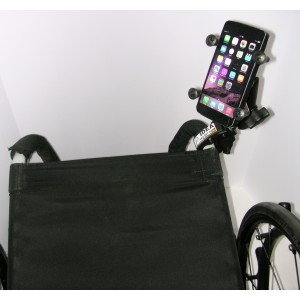 Display all pictures
Product Information:
High strength composite & stainless steel construction.
Spring loaded holder expands and contracts for perfect fit.
Rubber coated tips hold firm and stable.
6" Extension Arm.
Lifetime warranty.
Made in U.S.A.
Additional Information:
The RAM X-Grip® has a clean and clever four leg design that has great holding power without hiding your device behind foam pads and plastic. This durable holder is ready to secure your device and become a most useful accessory. Availible in a 6 Inch Ajustable Extension Arm" Model. Constructed of High Strength Composite & Stainless Steel. Holder has the ability to grasp the New iPhone 6Plus (approx. 6H x 3W in.) This durable holder can be attached any place to any round tube. It is excellent for wheelchairs, scooters, bicycles, lawn mowers and even motorcycles. Simply secure the clamp in a desired location and with the use of the spring loaded fingers your secured phone or music player is easily accessible. Adjustable arm is approximately 6 inches long and clamp will accomidate tubing up to 1-1/2 inches in diameter.
See also IDEA Metal Cup, Can or Bottle holder