Rand Scot Bye Bye Decubiti BBD WS & WL Seat Cushion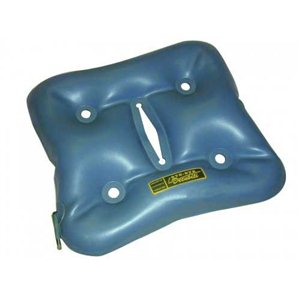 Product Description:

WS 16Wx17D inch.
WL 18W1x9D inch.
Kit includes: cushion, cover & air pump.
Bariatric Sizes Available.
Additional Information:
The original and still the best! Since 1957, it's the one you've always depended on. Even the most unconvinced person will find it difficult to deny the therapeutic qualities of our "simple" air cushions and mattress overlays. The secret of the BBD's success against decubitus ulcers is the equalization of pressure specifically over bony prominences promoting good blood circulation and greatly reducing the danger of damaging dermal tissues. Quadriplegics and paraplegics who have been plagued with decubitus ulcers received very positive results when they began using the BBD Cushions. In most cases the results can be spectacular!
WS 16Wx17D inch, WL 18Wx19D inch.
Bariatric Cushions Available:
Bye Bye Decubiti has drawn on the experience of producing standard cushions, to fashion a high-strength series. These cushions handle the forces of daily use by heavier persons. They are not only made of stronger stock, but are fabricated using a special process to strengthen the seams. Maximum Weight Capacity 450 lbs.
Models:
IDBAR24 - 20"W x 24"D
IDBAR26 - 20"W x 26"D