Invacare TopEnd Terminator Aluminum Ultra Lightweight Rigid Wheelchair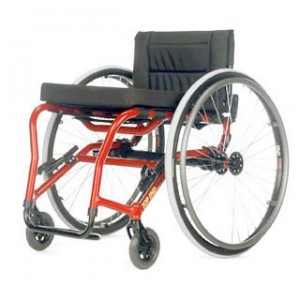 Product Information:
Configure your Terminator on the IDEA Order Form then FAX(262.923.4700) or Phone(262.691.4248) IDEA Customer Service to finalize your purchase.
Additional Information:
The Invacare® Top End® Terminator® Everyday Wheelchair is a lightweight rigid wheelchair built of 6061 T6 aluminum to withstand daily use, and with a variety of custom options, this wheelchair is reliable and affordable. The same craftsmanship that goes into our award-winning Top End® sport chairs can be found in the Invacare® Top End® Terminator® Everyday wheelchair. This model offers your choice of seat heights, wheels, arm styles and footrests. The chair comes standard with a 250 lb. weight capacity and offers a heavy duty option that will hold up to 350 lb. An ergonomic seat option builds a "sweet spot" that's especially effective for those who sit in a squeeze of 2" or more. The Terminator® Everyday Wheelchair comes ready to roll, with no need for cumbersome adjustments. If you're looking for value and performance, the Terminator® Everyday Wheelchair is your top choice. The pending reimbursement code for this great chair is K0005.
IDEA Order Form: TERMINATOR