Rand-Scot Saratoga Cycle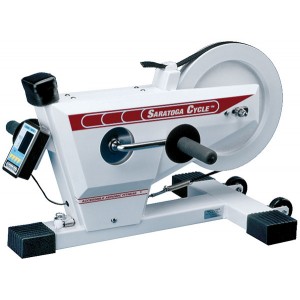 Display all pictures
Product Description:
The Saratoga Cycle is a table or floor model.
Simply place on table and sit in regular chair, wheelchair or it may be placed on floor and used to exercise legs.
Additional Information:
Padded forehead rest
Mechanically braked cycle
Bi-directional standard
Readout w/ earlobe pulse sensor
For home or institutional use
New improved tensioner
For arm or leg exercise
Digital display for tracking exercise
Five Different QE™ handgrip options available
Add an Adjustable-Height Table
Rand-Scot Saratoga Cycles are the premier line of exercise equipment for persons with disabilities and can bring renewed energy to your life. Many persons with special needs find new energy after they ease into a regimen of exercise using Rand-Scot Saratoga products and report a greater "zest for life" after a brief workout. Arms, shoulders, back and legs can be strengthened and you will gain more stamina to get through each busy day. Exercise burns calories, so you may lose weight while building needed muscle. Cycle includes an exercise monitor which measures time, speed, pulse, calories and distance.
Use a pair of IDEA Fist Grip Cuffs for a sure grasp.

*The Saratoga cycle comes without grips. Hand grips or foot plates must be added.
*Optional adjustable height Saratoga Table available for the Saratoga and Colorado.
*Allow 2 weeks delivery.