Invacare TopEnd XLT Hancycle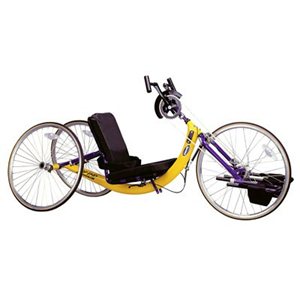 Product Description:
Lightweight Aluminum Frame.
Low seat, tall narrow back, recumbent design.
Phone IDEA Customer Service to configure and finalize your purchase. 
Additional Information:
The Invacare Top End XLT Handcycle has been engineered for the total recreational experience. Lightweight and stable, this recumbent handcycle comes with seven speeds and a reversing drum brake.
The XLT Handcycle features a lightweight aluminum frame, low seat, in a recumbent handcycle design which enhances aerodynamics. The tall, narrow back offers the maximum range of motion and increased power transfer. Easy to maneuver, the XLT Handcycle can hit speeds of 20 mph.
The XLT Handcycle also comes standard with a wealth of safety features, including reflectors, full chain guard, foot safety straps, safety flag, cushion and seat restraints. You can also choose from several optional safety enhancements, including mirror, helmet, safety lights, hydration systems and more.
The Invacare® Top End® XLT Handcycle is an example of excellence and craftsmanship.