Invacare TopEnd XLT Pro Handcycle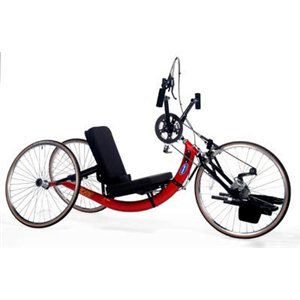 Product Description:
Lightweight aluminum frame.
Chrome-moly steel fork.
Adjustable.
Hands-on shifting.
Perfect for touring or training.
Phone IDEA Customer Service to configure and finalize your purchase. 

Additional Information:
The XLT PRO features a lightweight aluminum frame with a chrome-moly steel fork which translates to maximum stiffness and great cornering. The seat, back and legrests are adjustable for a perfect fit.
The Top End V-cranks and hands-on shifting come standard, enabling you to put more power to the pedals. Available in 27 speeds, with hands-on shifting just like our other competitive models, the XLT Pro is an excellent choice for everyone from the amateur enthusiast to the competitive cyclist.
Stable and aerodynamic, this three-wheel handcycle is capable of incredible distances and is perfect for touring. Avid cyclists are cheering over the performance upgrades available on this handcycle. Whether you're training, exercising, or just having fun, the Invacare Top End XLT PRO is what you're looking for.
The Top End XLT PRO Handcycle order form can be found on the Additional Specifications tab above. That can be referenced for assistance with the above drop down options. Also, if applicable, a color chart can be found too.