Invacare TopEnd Force RX Handcycle with Adjustable Carbon Fiber or Fixed Welded Back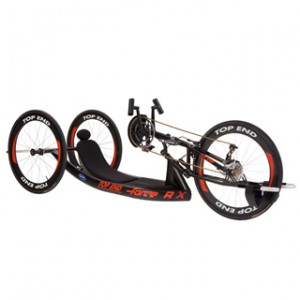 Display all pictures
Product Description:
7005 Aluminum welded frame
Ergonomic hand pedals
Carbon fiber or fixed welded back.
SRAM components.
High pressure tires.
Phone IDEA Customer Service to configure and finalize your purchase. 
Additional Information:
The Invacare Top End Force RX handcycle is the latest competitive handcycle In the Invacare® Top End® Force™ series. The Force RX handcycle combines the hypersonic speed of the Invacare® Top End® Force™ X Handcycle design with adjustability of the Invacare® Top End® Force™ R Handcycle in a lightweight, aerodynamic package. The 7005 aluminum heat treated frame is fabricated with slick one piece side frames plus there are multiple enhancements to allow a more reclined position without interferences. Check out the sleek new drop outs and the cables which are routed through the head tube so that you don't even see them! The custom reclined frame with an adjustable featherweight carbon fiber back is ultra-light and super stiff. The Force RX handcycle is a completely customized racing machine which includes a 30 speed drive train or you can upgrade to top-of- the-line components.