Invacare TopEnd Force K Handcycle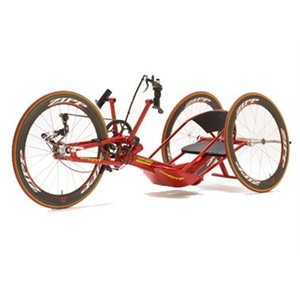 Display all pictures
Product Description:
Kneeling position.
Custom made designs.
27 speeds.
Maintenance-free manual upper derailleur system
26 inch high performance wheels.
Phone IDEA Customer Service to configure and finalize your purchase.
Additional Information:
The Top End Force K is a missile. The Force K is a kneeling position handcycle in a choice of three custom, made-to-measure aerodynamic designs.

The Force K Kneeler is used by the most able athletes, while the Force K Para Kneeler is for paraplegics who prefer the kneeling position to that of reclined and the Force K Double Amp. Kneeler defines the kneeling position for amputees.

Just like the rest of the Force Series, the center frame construction has an internal rib which reinforces the frame making it super stiff for maximum transfer of power. What makes the Force K different from the Force and Force G is that it requires detailed engineering measurements which can be viewed on the order form.

Control through the turns is smooth yet fast with our steering dampener system. The 27 speeds operated by the Rapid fire hands-on shifter/ brake delivers smooth, responsive shifting and braking right at your fingertips plus the easy-to-operate, no cable, virtually maintenance-free manual upper derailleur system take the guess work out of the chain rings. The 26-inch high performance wheels are outfitted with high-pressure clincher tires, threaded axles, drafting bumper, parking brake, and cushions for seat and back. Check out our professional level shifters, cassette, brake and chainring upgrades and time trial wheel package for maximum performance and speed.