Invacare TopEnd Excelerator Stock Handcycle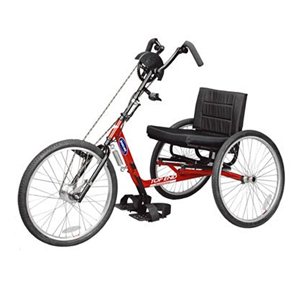 Display all pictures
Product Description:
Stable, maneuverable.
Can go 15 mph.
7-speed Shimano Hub.
Options include QuadGrips.
Mountain Drive transmission.
Phone IDEA Customer Service to configure and finalize your purchase.
Additional Information:
No more waiting to get a best selling recreational handcycle! The Invacare® Top End® Excelerator™ Stock Handcycle is the same great recreational handcycle as the custom model except that now it will be stocked and ready to ship right away so you don't have to wait. The Stock Excelerator is be stocked in 3 seat widths - 16, 18 or 20 inches and ready to ship in less than a week. Handcycling is a great way to have fun, get fit and stay active so you can enjoy life to the fullest. So get cranking!

Stable, maneuverable and easy to transfer in and out of, the Excelerator™ Stock Handcycle can go up to 15 mph. The smooth Shimano shifter lets you tackle hills or level terrain with equal ease.The 7-speed Shimano hub with reverse braking means your hands never have to leave the pedals. The QuadGrips or tri-pin quad hand pedals are popular options for those who have impaired hand function, and the Mountain Drive option is great if you have low endurance or steep terrain to climb.

Totally adjustable, the Excelerator™ Stock Handcycle features a simple fore-aft sliding seat, uncomplicated adjustable footrest system and a straightforward crank height adjustment with a fully adjustable chain tension idler so there is no need to add or remove chain links. Standard safety features include:reflectors, full chain guard, footrest safety straps, safety flag, cushion and seat restraint.

If you want a specific seat width or color, The Custom Excelerator™ Handcycle can be built to your specifications plus you can order the V crankset option with its wider cranks to allow more clearance for those who are tall or big. The custom model takes longer and is more expensive but worth it for some customers!