IDEA Cell Phone/ Music Player Holder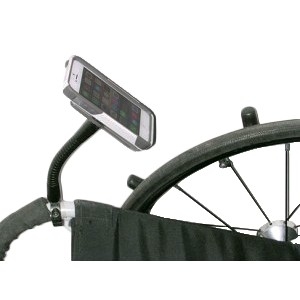 Display all pictures
Product Description:
Designed to fit wheelchairs, scooters, walkers bicycles and motorcycles

Durable metal

Three mount lengths

Fits 3/4" to 1 1/4" tubing
Additional Information:
This durable holder can be attached any place to any round tube. It is excellent for wheelchairs, scooters, bicycles and even motorcycles. Simply secure the metal collar in a desired location and with the use of adhesive hook and loop (included) your phone or music player is easily accessible. Choose between three different mounts, close-mount, 6 inch flexible steel or an extra long 13 inch flexible steel. Attachment collar will fit 3/4" up to 1 1/4" tubing.
See also IDEA Metal Cup, Can or Bottle holder