Invacare TopEnd OSR Racing Chair: Kneeling Seat Chair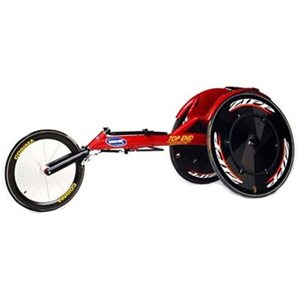 Product Description:
Designed for speed.
Exceptional stability and aerodynamics.
T-frame design.
Customized padded kneel pan.
Phone IDEA Customer Service to configure and finalize your purchase. 
Additional Information:
Designed for speed, the Top End Eliminator OSR offers exceptional stability and aerodynamics. The Eliminator OSR features a relaxed headtube angle for great cornering and maximum traction. Combined with the stiff aerodynamic T-frame design, track compensator system, integral wrap around fenders, aluminum side panels and rubber coated pushrims make this chair fast. If you have your sights set on winning, the Eliminator OSR will help you get to the finish line first. The Top End Eliminator OSR order form can be found on the Additional Specifications tab above. That can be referenced for assistance with the above drop down options. Also, if applicable, a color chart can be found too.