Frog Legs Billet Aluminum Epic Soft Roll Caster (pair) - 3" x 1.4"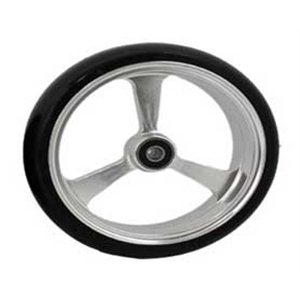 Display all pictures
Product Description:
3 x 1.4 inch.
Anodized billet aluminum hub
Resilient urethane tread
Supports up to 500 lbs.

Sold as pair

68 grams
Additional Information:
This Frog Leg Billit Aluminum Soft Roll caster has a urethane tread nearly 1 1/2 inches wide which is excellent for absorbing bumps and uneven surfaces when used on any chair.
Frog Leg Billit Aluminum Soft Roll 3-spoke ultra light aluminum built hubs are machine-lathed so the outside rim is perfectly balanced and the bearing space is exactly parallel. Epic hubs are bright-dip anodized to avoid scratching and keep it looking great for the life of the wheel.
Epic hubs are made of 6061 T-6 aluminum and rated for up to 500 pounds.
2010's new hub design removed nearly 1/2 the weight. Original 4 inch=125 grams. Epic 4 inch=68 grams.
Aluminum casting and other hub creation processes used to create hubs are not able to achieve this tight tolerance while maintaining strength.