IDEA Metal Cup, Can or Bottle Holder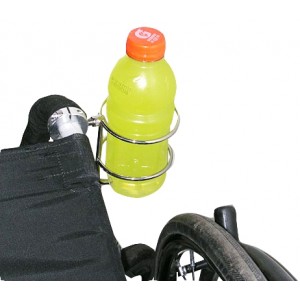 Display all pictures
Product Description:
Designed to fit wheelchairs, scooters

Bicycles to motorcycles

All metal

Will not rust

Ring cup holder removes quick and easy

Additional Information:
This durable all metal beverage holder can be attached any place to any round tube. Excellent for wheelchairs, scooters, bicycles even motorcycles. Simply secure the metal collar in a desired location and screw the metal 2 ring beverage holder into it. When not in use unscrew the 2 ring holder and the collar is the only thing that stays in place. Collar will fit 3/4" up to 1-1/4" tubing, holder is just over 3" in diameter and approximately 5" high. See also IDEA cell phone/music player holder.