IDEA Kayak Seat - Mid Level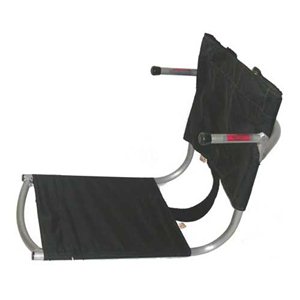 Product Description:
Back height approx 16 inches
Seat width approx 16 inches
Additional Information:
My kayak seats were designed by me personally after paddling with a variety of disabilities and carefully analyzing specific needs. Each seat frame is constructed of lightweight aluminum, all back heights and widths are near 16 inches and covered in a durable waterproof material which can be easily adjusted to fit the individual user. Always sit on a seat cushion when using these seats and never strap yourself to the seat in any way. Always wear a PFD. I've used the High Level Seat for 25 years.

This Mid Level Kayak Seat is for the individual with impaired balance or torso control and uses a wheelchair. The protruding lateral supports assist in keeping the body upright and minimize falling sideways. It is placed on an existing kayak, canoe or boat seat and secured in place with straps. Back height and width are approx 16 inches.